In 2019, 21 samples were submitted for herbicide resistance screening to Michigan State University Plant & Pest Diagnostics. Twelve of the 2019 samples were sponsored by the Michigan Soybean Promotion Committee Weed Resistance Sampling Program, which covers the screening of Amaranth/Pigweed species, common and giant ragweed, common lambsquarters and marestail/horseweed from systems with soybeans in the rotation.
The overall number of submissions is lower than in years past and the submissions from soybean growers was less than half of the 2018 submissions. These reduced numbers may indicate that growers are assuming uncontrolled weeds of these species are resistant or that in-season molecular testing was utilized from outside laboratories.
It may also relate to weather-related delays and other issues experienced in the 2019 growing season. The number of submissions that were from vegetable systems, out-of-state, and/or different weed species remained steady. 
The 2019 samples included common lambsquarters (three), common ragweed (four), giant ragweed (two), horseweed/marestail (four), Powell amaranth (one), large crabgrass (one), barnyardgrass (one) and a newer species to the area, purple amaranth (five). More details on the identification and initial observations of this species in Michigan is discussed the article, "Be on the lookout for a new pigweed species, purple amaranth."
Each sample received was screened for resistance to six to eight different herbicide sites of action. Note that the screenings of the two grass species are still pending due to delays from COVID-19, the infectious disease caused by the novel coronavirus.
With the exception of purple amaranth, no novel instances of new herbicide resistant weeds for Michigan were noted in the broadleaf species screened. However, some screenings did confirm the appearance of previously identified herbicide resistance in new counties (see listing below).
The cumulative map and listing of confirmed herbicide-resistant weeds by county has been updated on the Plant & Pest Diagnostics Services website to include the 2019 screenings (Fig. 2).
One population of purple amaranth found in Michigan last year was found to be resistant to multiple photosystem II inhibiting herbicides (i.e., Groups 5 & 7, prometryn and linuron, respectively). Tests are on-going to determine the level of resistance to these two sites of action.
A second field-population from a different part of the state was not resistant to any of the eight herbicide site of action groups tested. Previous reports of herbicide resistance in this species, reported at International Herbicide-Resistant Weed Database, were noted between 1978-1993 in New Jersey, USA (Group 2, ALS-resistant), France (Group 5, PSII-resistant), Switzerland (Group 5, PSII-resistant), and Malaysia (Group 22, photosystem I- resistant). 
Sushila Chaudhari of MSU's Department of Horticulture will be investigating the distribution of this weed species in Michigan and working to understand the biology and control options available.
Herbicide resistance testing will again be available in the fall of 2020 with all submissions due by mid-November. Information on collecting and submitting samples is available in "Tips for collecting weed seeds: Ensure your resistance sample gets tested" or "How to submit a sample to MSU Diagnostic Services" in the back of the 2019 Weed Control Guide for Field Crops (E-434).
If you have any questions regarding the 2019 results or future sample submissions, please contact Erin Hill at hiller12@msu.edu for more information.
New county locations and/or incidents of resistance confirmed from 2019
*G# refers to the herbicide site of action group
Common lambsquarters
PSII-resistant (G5): Kalamazoo
Common ragweed
ALS-resistant (G2): Ingham, Shiawassee Co.
Multiple-resistant (ALS-G2 + PPO-G14): Clinton
Multiple-resistant (glyphosate + ALS-G2): Calhoun
Horseweed/marestail
Glyphosate-resistant (G9): Kalamazoo, Midland Co.
Multiple-resistant (glyphosate-G9/+ALS-G2): Clinton, Midland Co.
Purple amaranth
PSII-resistant (G5 & G7): Allegan
Powell amaranth
PSII-resistant (G5): Kent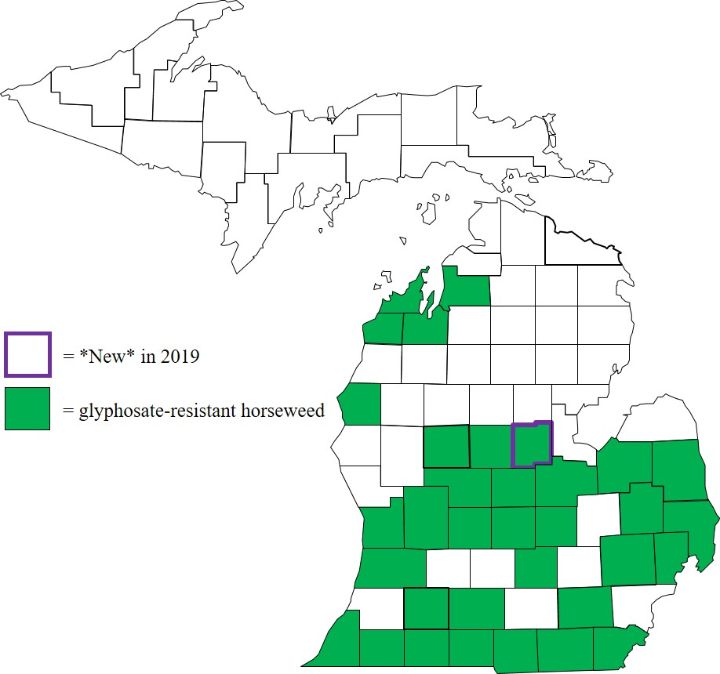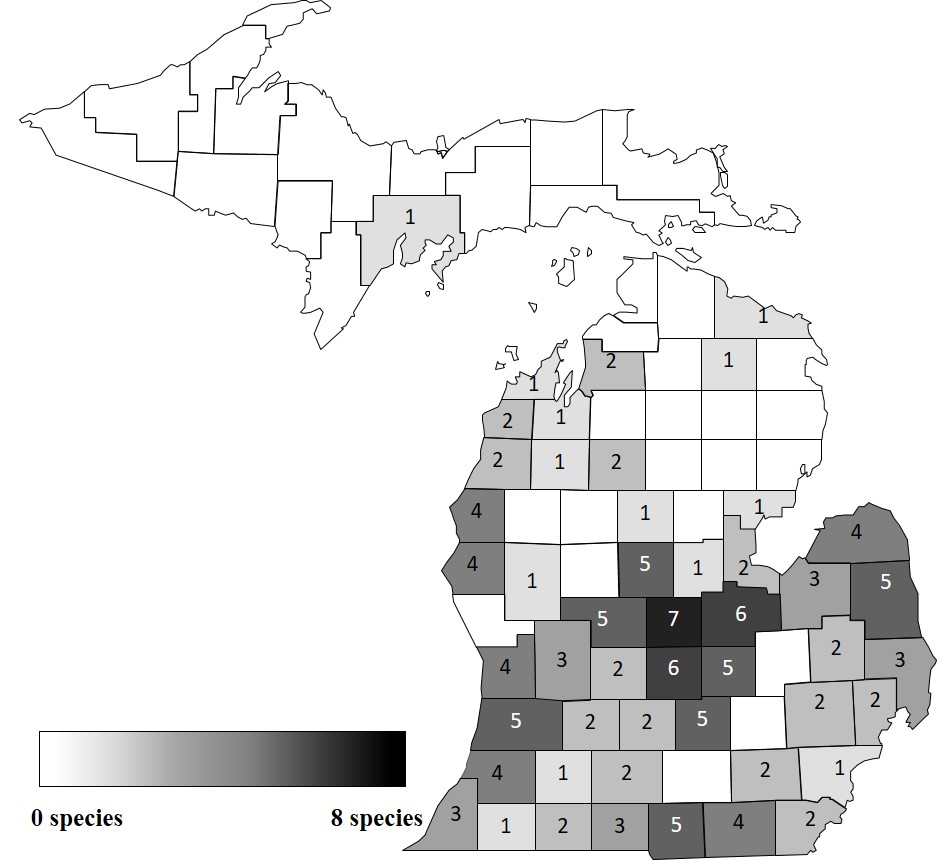 Source URL: https://www.canr.msu.edu/news/2020-status-of-herbicide-resistant-weeds-in-michigan