Recently, the Conservation Technology Information Center (CTIC) and North Central Sustainable Agriculture Research and Education (SARE) program released the results of their 2016-2017 Cover Crop Survey.
This document reported results of a broad array of questions asked of cover crop users about their perceptions on the many reasons cover crops are used. Since we have extensive experience with cover crop research and weed science, we were very interested in the results of the "Herbicide-Resistant Weeds" section.
In the abstract for the survey (Survey found here; Press release found here), it was reported that 66% (sic) of surveyed cover croppers reported that weed control was improved after a cereal rye cover crop (Figure 1).
However, a quick look at the actual data in the report shows a different story, depending on who and how the data is interpreted (See Figure 2).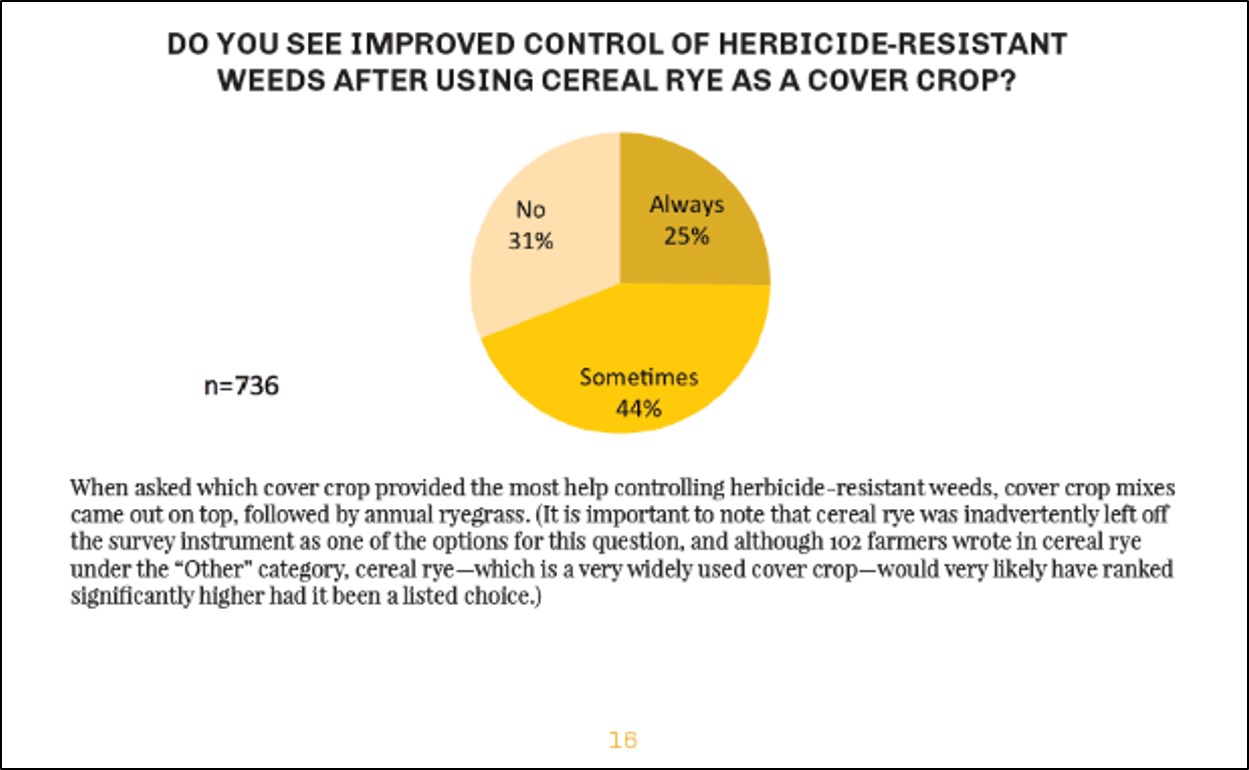 The report states that 736 people responded to the question "Do you see improved control of herbicide-resistant weeds after using cereal rye as a cover crop?" The results show that 25% responded "Always", 31% responded "No", and 44% responded "Sometimes".
It appears that the individuals in charge of compiling data for the abstract simply added the "Always" and "Sometimes" numbers to show that the majority of cover crop users see improved weed control after cereal rye.
If someone with a more negative view on cover crops were to analyze this data, they might suggest that 75% of cover crop users do not see improved weed control after using a cover crop if they added up "No" (31%) plus "Sometimes" (44%).
But the most unbiased way to read this data is to simply state how it is presented in the pie chart: 25% of cover crop users believe they always see improved weed control, 31% do not see improved weed control, and most survey respondents (44%) experienced mixed results with cover crops and herbicide-resistant weed control.
This chart is just one set of data compiled by this survey. We do not doubt the results of the survey, but the interpretation that was stated in the abstract and press release is what is troubling to a trained weed scientist. When analyzing and reporting data, one must take an objective view of the data.
Adding the "Always" and "Sometimes" responses is a good way to tell cover crop promoters what they want to hear, but in our opinion it is not the correct way to read that set of data. In fact, we have seen the data presented this way by cover crop promoters (Figure 3).
Our point in writing about this is that this is a good example of the different ways data can be interpreted, and is a great example of how we would explain confirmation bias. If you google this term, here is a definition of confirmation bias and some good reading on this human phenomenon.
Confirmation bias is the tendency to process information by looking for, or interpreting, information that is consistent with one's existing beliefs. This biased approach to decision making is largely unintentional and often results in ignoring inconsistent information. Existing beliefs can include one's expectations in a given situation and predictions about a particular outcome. People are especially likely to process information to support their own beliefs when the issue is highly important or self-relevant.
While we are very supportive of all of the efforts of CTIC and NCSARE, we do want to emphasize that it is important to send the most accurate message to our growers regarding this weed control practice. Our past research with horseweed (aka marestail) and palmer amaranth would support the survey results shown in figure 2. 
Sometimes we get better control of herbicide-resistant weeds with cover crops and sometimes we don't. We have seen some very promising and consistent results in being able to suppress marestail with cereal rye and wheat.  We have not been able to see a consistent trend with annual ryegrass and Palmer amaranth suppression. 
Currently the Purdue Weed Science group has a number of fairly extensive projects ongoing with various cover crop species and mixtures at sites with herbicide-resistant weeds. We will be incorporating these results into our weed control recommendations as we determine which program provide the most reliable results. 
But, to do this research correctly, it takes time to fully assess the impact of the cover crop on an established weed population. So, be patient, and continue using cover crops for the other benefits they provide. But in the short term, we just want to throw out some caution about the weed control claims that seem to be pervasive in some of the popular press.
Source URL: https://extension.entm.purdue.edu/pestcrop/2017/Issue27/#2