With the calendar reading June 22nd, summer has officially arrived in Indiana. With a challenging spring now behind us, we want to provide an update of the herbicide injury complaints we have received throughout the spring.
We can break the types of samples we have received into three different categories: injury on stressed crops, sprayer contamination, and drift.
Herbicide Resistance Info


Several of the samples we received after we emerged from our cold wet spell were crop injury samples on plants that sat in cold, wet conditions for several weeks. Many of our postemergence herbicides that are typically safe on crops caused a lot of visual injury symptoms. Many of our group 27 herbicides that are found in corn products like Halex GT, Armezon PRO, and many other caused very visual bleaching on exposed corn leaves at application.
We have also received many samples of soybeans with leaves that are puckered and have a drawstring effect. While drift rates of group 4 herbicides can cause similar symptoms, many cases we have seen involved a postemergence application of a group 15 herbicide to stressed soybean plants. Under the right conditions, all of these group 15 herbicides can cause this type of damage to soybean plants.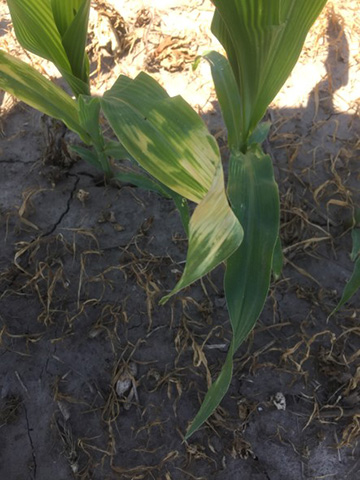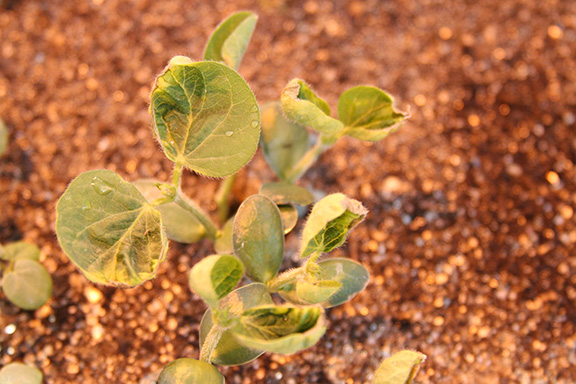 We have also received numerous injury samples that were caused by sprayer contamination. These type of complaints tend to increase in years with wet springs. As soils dry out and sprayers are able to roll across the field again, sometimes sprayer sanitation takes a backseat to the desire to spray as many acres as possible while the ground is fit.
We have received many cases of clethodim contamination on corn. This was likely due to many applicators terminating failed corn stands, then moving onto spraying postemergence herbicides on corn fields. We have also seen an uptick in contact herbicide burn on corn and earlier planted soybean fields.
These cases are often when a sprayer makes a late burndown application with spray mixes containing paraquat or a product containing Sharpen. If the boom or tank was not properly rinsed, these products create very visual burns and speckling on whatever crop is sprayed next.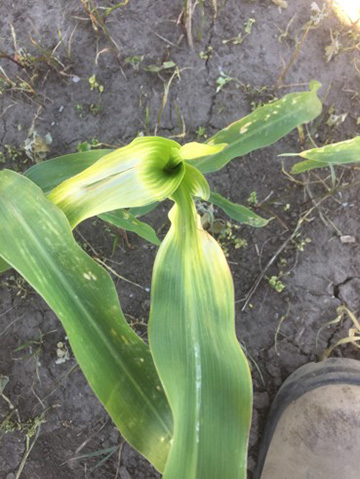 Lastly, we have received a number of drift complaints. As we transitioned into a period of drier weather, the winds seemed to pick up as well. Among these drift samples have been several complaints about group 4 injury on soybean.
In our experience, most of this injury has come from products containing dicamba being applied to corn, and NOT Xtend soybean. To date, we have received very few complaints of dicamba moving off target from Xtend soybean fields.
This is in great contrast to reports we have heard out of Arkansas and the Mississippi Delta, where over 200 official complaints have been filed.
We still have a lot of small soybean fields across Indiana, so this is a great time to remind applicators to follow all dicamba laws with any applications yet to be made. Hopefully we can continue to avoid reaching the number of complaints our colleagues have seen down south as we finish up our spray season.  
Source URL: https://extension.entm.purdue.edu/pestcrop/2017/Issue13/#3