Looks like we are fixing to have an overcast week with off and on showers.  In other words, a typical early June week for Tennessee. 
At the same time Palmer amaranth is growing very quickly and many will try to get their Liberty applied over Liberty Link soybeans this week. 
Liberty typically does not work well under cloudy skies compared to full sunlight.  Of course logistically one may have to spray Liberty in less than ideal conditions. Therefore, we have examined if tankmixing in a PPO herbicide with Liberty will improve Palmer amaranth control during cloudy days and/or of an evening.
What we found last year on a PPO-sensitive Palmer population is that tankmixing will increase the control (Figure 1).  Liberty and fomesafen alone provided great control when applied at noon in our study. 
However, if applied early in the morning neither product alone provided good Palmer amaranth control. Moreover, control also suffered if either was applied about 7:00 p.m..
We were able to increase the Palmer amaranth control when fomesafen was tankmixed with Liberty both in morning and evening applications.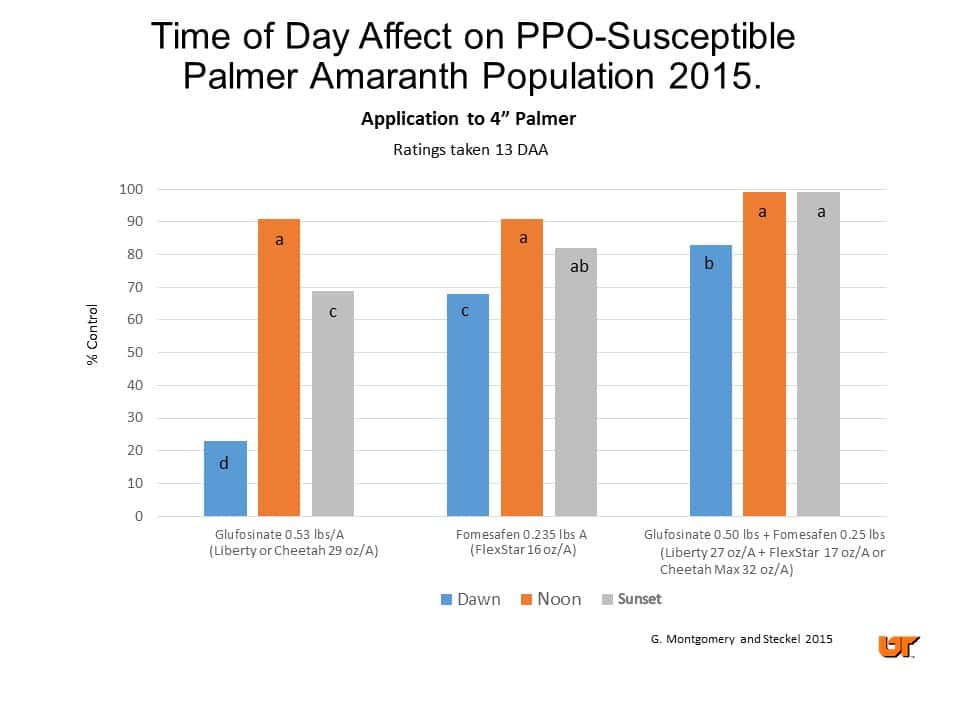 What about on a mix of PPO-resistant/susceptible Palmer amaranth population? In an attempt to answer this question we conducted a test on a farmer's field west of Brownsville, TN that had about 20% of the Palmer amaranth population PPO-resistant. 
These applications were made when I would expect very poor Palmer amaranth control with Liberty as the airtime high temperatures were only in the 70s with night time low in the 50s and there was 100% cloud cover. 
Again the Palmer amaranth control was improved with the tankmix (Figure 2).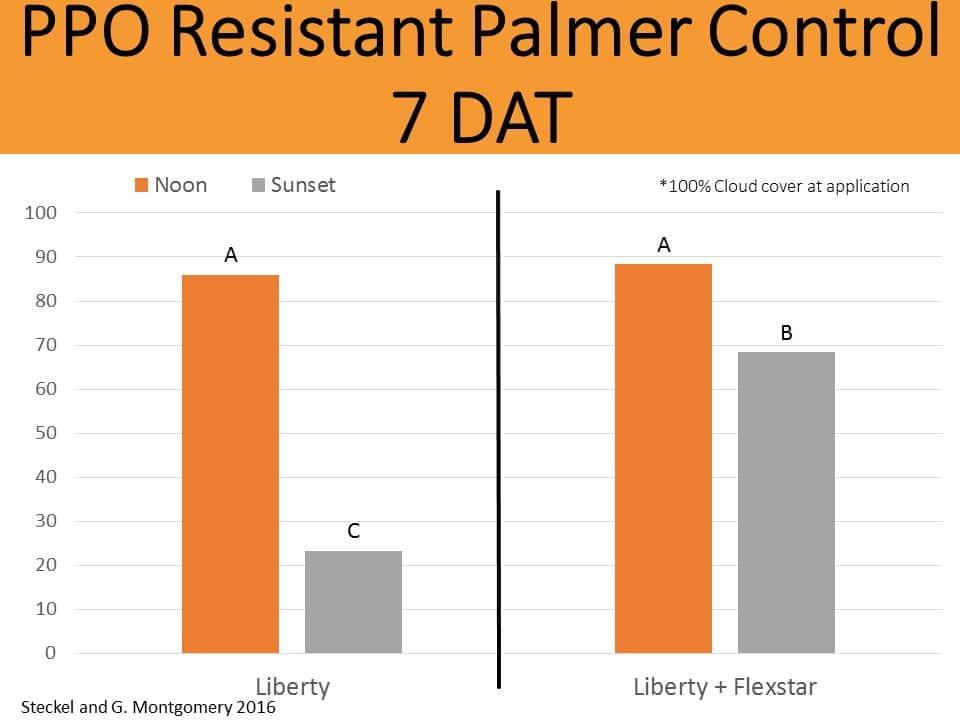 Herbicide Resistance Info


The first take-home point from these two studies is that if at all possible, apply Liberty during the middle of the day (9 a.m. to 6 p.m.) in order to get the best Palmer amaranth control. 
Second, adding fomesafen in with Liberty greatly increases the consistency of Palmer amaranth control and can often significantly mitigate the poor performance of Liberty during less than ideal environmental conditions.  
However, there appears to be a limit if conditions are less than ideal and the population is PPO-resistant.  A sequential application of Liberty applied about 7 days after the first application has controlled any escaped Palmer amaranth in these situations.
The other main reason I like this tankmix is that most are using Prefix as their fomesafen source and that herbicide tankmixed with Liberty provides at least two effective Palmer amaranth modes of action (Liberty and Dual Magnum). 
In our recent survey of Palmer amaranth we found about 20% of the fields had some level of PPO-resistance.  This means that in about 80% of the fields, fomesafen will provide a third effective Palmer amaranth mode of action.